The Texas Clemency Memos-The Atlantic Magazine July/August 2003
4-29-2003 Texas County First to Call For Moratorium
4-21-2003 U.S. Supreme Court Grants Cert in Texas Death Penalty Case
U.S. Death Row Statistics
Source: NAACP Legal Defense and Education Fund, Death Row USA, Winter 2002
All figures as of Jan 1, 2002
| | | |
| --- | --- | --- |
| Race | | Percent |
| White | 1,701 | 46.71% |
| Black | 1,562 | 42.77% |
| Hispanic | 312 | 8.54% |
| Native American | 45 | 1.23% |
| Asian | 32 | 0.88% |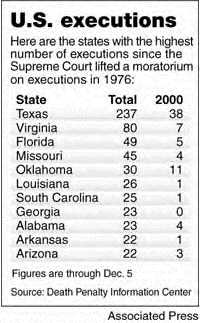 Stop the Execution of the Innocent!
Oct 4, 2002
(From: ACLU website)
In recent years, numerous studies have found that one in seven people sent to death row are later proven innocent. In the last 25 years, 102 innocent people have been released from death row.
Given this frightening history-- and with evidence mounting that more and more innocent people are sent to death row each year--a nationwide movement has sprung up calling for a moratorium on executions. Even hard-fast supporters of the death penalty like Republican Gov. George Ryan of Illinois have recognized that there are serious flaws in the death penalty system that must be studied and resolved. That is why he stopped all executions in Illinois until the state can examine why more death row inmates have been found innocent and released from prison than executed since the reinstatement of the states death penalty in 1977.
Gov, Ryan is not the only one who sees something terribly wrong with the capital punishment system. This year, Sen. Patrick Leahy (D-VT), a former prosecutor, and Rep. William Delahunt (D-MA), introduced the "Innocence Protection Act" (H.R. 912 and S. 486), a bill that would provide new safeguards in capital cases. 234 Representatives, and 25 Senators have cosponsored the House and Senate Bills respectively. It is time to stop talking, pass the legeslation, and take action to end the execution of innocent people!
States Without the Death Penalty Have Better Record on Homicide Rates
A survey by the New York Times found that states without the death penalty have lower homicide rates than states with the death penalty. The Times reports that ten of the twelve states without the death penalty have homicide rates below the national average, whereas half of the states with the death penalty have homicide rates above. During the last 20 tears, the homicide rate in states with the death penalty has been 48%-101% higher than in states without the death penalty. "I think Michigan made a wise decision 150 years ago." said the state's governor, John Engler, a Republican, referring to the state's abolition of the death penalty in 1846. "Were pretty proud of the fact that we don't have the death penalty." (New York Times, 9/22/00)
A look at neighboring death penalty and non-death penalty states shows similar trends. Death penalty states usually have a higher murder rate than their neighboring non-death penalty states. (See graphic below)